WHAT IS IT ABOUT?
Balaton Sound's Safety First Campaign is a volunteer program that kicked off in 2018. Due to its success, it will continue as a permanent service at the festival. The program's goal is to minimize health, safety, and technical issues at the festival through preliminary communication campaigns, video tutorials, on-site presence advice from recognised professionals and through the assistance function which is available in Balaton Sound application.
HOW DOES IT WORK?
In the program, we will be working with a team of international and Hungarian volunteers, who will all take part in a 3-day training session right before the festival.

There are two types of volunteers: those who will work in pairs at three Safety First points at the festival site, and others that will patrol and monitor areas connected to each of the three points. The volunteers' main task will be to act as a "third eye" to health, technical and security service personnel on-site, and to help complement their work in making the festival as safe as possible. Volunteers will work in 6-hour shifts, providing a permanent presence throughout the festival at all times.
WHO ARE WE LOOKING FOR AS A VOLUNTEER?
We are waiting for young applicants who like the vibrant life of festivals, but besides partying they would like to do something for a good reason and make the festival a safer place to stay for everyone.
speak English and Hungarian fluently and are enthusiastic and proactive - speaking another foreign language is an advantage!
are socially sensitive, willing to help, and like Balaton Sound
have proficient knowledge about healthcare, or are med student, psychology student or just would like to help others
WHAT DO WE OFFER IN EXCHANGE?
3 day training led by professional experts
work experience at a festival, adventures, and new friends
Safety First merch (T-shirt / sweater)
camping access at the staff campsite
a hot meal once a day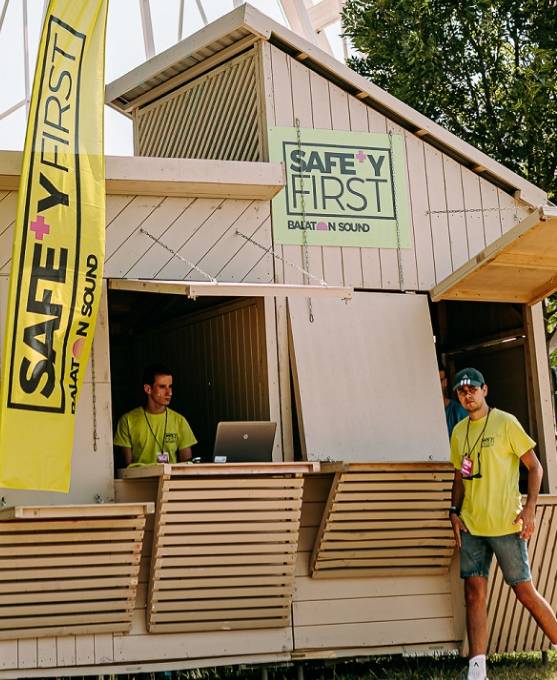 DURATION OF THE WORK
25 June - 2 July 2023
WANT TO JOIN OUR TEAM?
Deadline: 30 April, 2023
APPLY NOW
INTERNATIONAL RECOGNITION IN 2020
We are proud to say Balaton Sound's Safety First program won The Health and Safety Innovation Award at the European Festival Awards (EFA) 2020. For that, we cannot thank our volunteers enough, as it is something we couldn't have been able to achieve without them!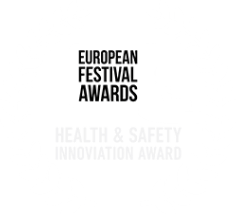 Dr Krisztina Hevesi
sexual psychologist, academics at ELTE PPK University
Sexual psychologist, lecturer of ELTE University (Faculty of Education and Psychology). Sees positive sexuality as a part of a fulfilling life at all ages - with a focus on providing young people with appropriate information and on maintaining high levels of intimacy in long-term relationships.
5 Pro Tips before the Festival
Less is more: pack CONSCIOUSLY! Make a packing list on what you'd use on a daily basis and at the festival. (Panic-packing leads to many things left at home)
Recharge yourself before heading to the festival: get plenty of rest and fill your energy stores with vitamins. Otherwise your battery will run out quickly.
Figure out in advance where you put your valuables: especially your phone and money/card, so you can party freely without leaving them.
What to bring: phone charger, sunscreen, hygiene products (tissue, wipes, toothbrush), sunglasses, headgear, water bottle, raincoat.
Be sure to bring: warm clothes for the cool evenings, and don't forget to wear boots - take care of your feet, you'll be jumping a lot :)
5 Pro tips during the Fesztival
The "don't worry, it'll be fine!" it's not safe enough - use a condom so it won't be the STDs that make the festival unforgettable!
Don't get sunburnt (sunscreen!) - and not roasted in front of your friends either: drink in a way that remains acceptable!
Get to know a lot of people! Where if not here?!
Move around with your friends at the festival, but don't forget to Pick an SOS meeting place where you can reunite at designated times during the day.
Always keep your phone charged and check out the Safety First app! If you see a person who is not so well, be sure to know how to use the app - and use it!
+1 After Tip:
You may miss the festival atmosphere and your surroundings may feel unstimulated! Keep in mind that this is natural. If there is such a thing as post-holiday "depression", this is also true for festivals!
Dr Gábor Zacher
physician, toxicologist
Hungarian physician specializing intoxicology, Chief Medical Officer of the Toxicology Department in the Péterfy Sándor Utcai Hospital, Budapest. Addictions are nowadays parts of our life. They find us, surround us and won't let us go. But what is in the background? Helps us to orient ourselves in the labyrinth of our addictions.
5 Pro Tip before the Festival:
Do not eat pickles or cabbages before a party, these can increases stomachtburn
Bring some chewing gum is also great to have at you.
Pack a water bottle
If you are taking medication, find out if you are allowed to drink alcohol with it
Be sure to bring painkillers
5 Pro tips during the Fesztival
Only consume one type of alcohol per day
Always take breaks between alcohol beverages
Drink sufficient amounts
When it comes to alcohol, if possible, do not exceed the 2-glass limit
Know you own limits.
+1 After Tip:
By emptying the stomach, for example by vomiting, the human body can be relieved. Tactical vomiting before bedtime is a good idea, even the ancient Romans used to do it, to get through a ten-course meal, they would go out and tickle their throats with goose feathers. And so they resumed their feasting with renewed vigour.
Dr István Jenő Molnár
Strategy director of the Institute of Drug Research
I am the strategy director of the Institute of Drug Research, an assistant lecturer of the National University of Public Service, the vice-president of the Association for Safe and Liveable Cities, a lawyer, crime prevention expert and ex-officer. In the last fifteen years, I have been working on the fields of law enforcement and crime prevention; my hobby and calling is child and youth protection. This task is a great opportunity because while giving my answers and advice, I can direct the attention of those young and ready to party to the fact that you can have fun while realizing the importance of security awareness.
5 PRO TIPS BEFORE THE FESTIVAL
If you are planning to spend several days at the Festival in a tent, think wisely about what do you really need. Unnecessary and expensive things are better left at home!
Make a checklist about all your devices – even better if you take photos of them, too! This comes quite handy in case you become a victim of robbery – then you don't have to think hard about what you brought with yourself. The officer will surely praise you if your checklist also contains the specific identification numbers of your devices, such as the IMEI number of your phone.
It is worth to insure your valuables – this is available only for a few thousand HUF.
Please consider using public transport. If you arrive by car, don't leave anything in it, and park in a safe environment. Oh, and if you are bored with the party, don't even think of driving under the influence!
Every festival is a great experience, and it is difficult not to spread the good news. If your home remains without any supervision, and have an open profile on social media platforms, please don't post that your flowers are to go without water for a week!
5 Pro tips during the Fesztival
If possible, don't leave anything in the tent – at least not those things that are not covered in your insurance policy. Please, make sure to leave them in our safes. Should a theft occur, seek help immediately from the officers on site, and cancel your card, your phone or other electronic devices!
Don't post about your experiences during the Festival either, because you are helping those hunting for empty homes.
Many conflicts arise from not respecting the requests of the safety personnel. If the signs and the safety personnel tell you not to, please, don't climb up on it, don't jump over it and don't enter where it is forbidden to do so, especially not in a drunken or dazed state.
Please, keep in mind that you visit the Festival to entertain and relax. Be patient, happy and bear in mind that in the huge crowd, or while standing the line, if someone steps on your feet, it is not necessarily out of malice, and you should not start communication by a slap.
t might seem funny to take a photo of someone in a public restroom of shower, but photos are personal data. Don't even think about taking one, storing one or forwarding one without the other half's permission. If you do so, you might get involved in a criminal procedure.
+1 AFTER TIP:
If you arrive as part of a company, and the number of those leaving is not the same as those who arrived, please, be suspicious! Don't explain it by thinking that your friend just left earlier than usual! Take care of each other during the Festival as well, don't lose each other and please don't leave anyone behind in a drunken or dazed state! Not even if your company's motto is "Ill weeds grow apace".
Viktória Metzker & Yamina
dj duo: Tits Gang
The Tits Gang is a joint project of the 2 number one female local DJs, Viktória Metzker and Yamina. For the second year in a row, we have been featured at the biggest festivals, including of course Balaton Sound, so it was a no-brainer to support the Safety First campaign again this year. Together. We have been part of the Hungarian nightlife for years, meeting the youth generation and their party culture from an external view (but at the same time very closely). We think, that we have a huge responsibility: we are influencers with a massive number of followers on social media, and we are the ones who actually create the atmosphere, vibe of a party. Many young people follow our everyday life and actions, and many of them are girls who look up to us as role models. We'd like earn their respect and educate them how to party safely. This is why the Safety First project is important to us.
5 PRO TIPS BEFORE THE FESTIVAL
Check your documents validity (passport, ID or driving license that is needed to check-in to the Festival Area. Or in case you need to identify yourself for the police.
Get to know when and where your favorite artist is performing, go to the stage early to avoid crowded situations on the way there or in front of the stage.
It's a good idea to put enough money onto your credit card the day before the festival, or top-up your balance to your wristband prior the event to avoid queues at the top-up points.
Pay attention to hygiene :)
bring medicine, painkillers, condoms - you'll need them all :D
5 Pro tips during the Fesztival
The first and most important thing is to be conscious. Let's party, but with limits!
Never accept drugs or alcohol from strangers.
Keep an eye on your company, your friends. One of you should always be sober in case someone would go crazy and wasted.
Never go home alone, always with a friend or someone you know instead, especially if you are drunk.
Pay attention to hygiene, particularly at a multi-day festival. It's worth taking a bath every day :)
+1 AFTER TIP:
Take enough time for healing and rest.